Welcome
Use music controls below to listen to some old time music - "12th Street Rag"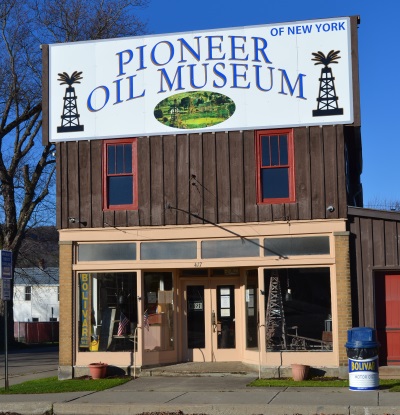 Mission Statement
The Pioneer Oil Museum of New York, Inc., believing that knowledge and understanding of the local oil and gas industries are vital to the heritage of this area, will preserve the history and legacy of these businesses. The museum will act as a repository for significant artifacts used throughout Allegany and Cattaraugus Counties. The museum will house in a readily central location, articles and information of historical value or interest pertaining to these industries. It will accumulate and display materials relevant to the local industries. Realizing that the success and operations of the local fields were not possible without a dedicated workforce, the museum will honor the men who were pioneers in these endeavors. The museum will provide educational resources for local schools and colleges, as well as a research facility for any persons involved in investigations of these industries.
Wine and Cheese Tasting
Friday June 24, 2016 at the Hahn and Schaffner site from 6:30 to 8:00 pm.
$15.00 per person
$35 - Two Tickets and designation as Bronze Patron
$65 - Four Tickets & Silver Patron Status
$125 - Eight Tickets & Gold Patron Status
Tickets available June 1. Be sure to check the latest newsletter for full details.
Below are links to two brochures about Bolivar and the Pioneer Oil Museum.

Bolivar brochure

Museum brochure
The Museum is undergoing continual renovations and will be a work in progress for many years to come. Click here to see our renovation roadmap.